4D product information for
PSU for BeagleBone Black etc.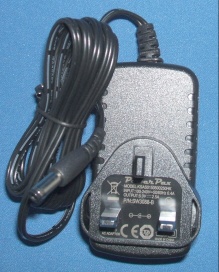 Product Title: PSU for BeagleBone Black etc.
Manufacturer/Publisher: Various
Stock Code: VAR-BBBK-PSU
QuickCode: 17805
Format: Hardware
Product Group: Other SBCs (Small Board Computers) and Accessories, eg. BeagleBone Black, CHIPS, etc.
Condition: New
Availability: Usually available from stock


Description:
Plug-in Regulated PSU 5V DC 1.5Amp UK plug Suitable for BeagleBone BK

An ultra-compact UK plug top switch mode power supply providing a regulated output voltage and providing up to 18 watts of continuous output power. This power supply meets CEC and Energy Efficiency Level IV requirements.

* Wide range input 90-264V AC
* Output: 5V, 1.5A regulated
* Connector: 2.1mm jack
* Moulded 2.1 x 5.5 x 12mm output connector Polarity +ve centre
* CE and RoHS Compliant
* Automatic built in short circuit, over voltage and over current protection
* Meets CEC Energy Efficiency Level IV (75% typical)
* No minimum load

UK wallwart (integrated UK 13Amp type plug)

Technical Data
Input Voltage: 90-264V ac 47-63Hz
Load Regulation: +/- 5%
EMI: FCC Class B conduction & radiation
Efficiency: 75% typical
Mean Time Between Failures: 50,000 hours at 25C full load
Safety: CE, CB


Price: £11.00 no VAT to pay!
Free UK delivery on orders of £10 or more! (exceptions apply)


Over 5400 items with extra product information!
Most orders of less than £10 will incur a £3 admin charge.
Items on special offer are while stocks last and may be time limited.
Items marked S/H are secondhand and have a 3 month warranty
Unless otherwise stated, photos are for illustrative purposes only
UK delivery included on orders of £10 or more (exceptions apply), please ask for overseas delivery cost.
Please check for compatibility. Official orders welcome. E&OE
---
If you have a sales enquiry please email our
sales department
Unit 16, Arunside Ind. Est., Fort Road, Littlehampton, West Sussex, BN17 7QU, UK. 01903 523222
(full contact details)
If you have any comments or problems please email
info@cjemicros.co.uk
CJE Micro's is not responsible for the contents of external internet sites.
Last updated: Fri, 07 Aug 2020