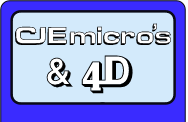 LaPi
The portable RISC OS computer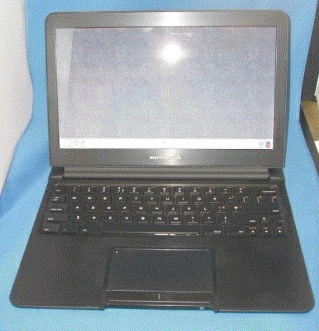 Front view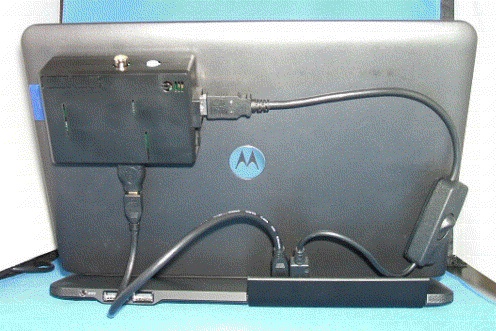 Rear view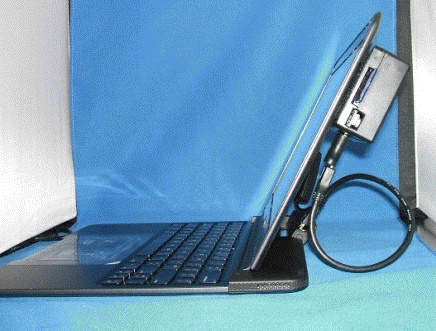 Side view
Specification
11.6" 1366x768 screen (1360x768 under RISC OS)
Touchpad with two buttons (Menu is mapped to Alt-Gr key)
36Wh, 3cell battery
285 x 240 x 20mm (WxDxH) (closed, without Panda/Raspberry Pi or WiFi module)
Battery charge level indicator
Stereo speakers: RISC OS support only from RaspberryPi
Brightness & Volume controls (No Volume control on LaPanda)
USA keyboard with extra Hebrew legends. UK Keyboard available as upgrade
Raspberry Pi Model B 512MB or Pandaboard ES in case
R-Pi Real Time Clock module (Panda battery backed clock coming!)
8GB USB Pen Drive. 2GB SD Card containing RISC OS 5
RISC OS Licensed by Castle Technology Ltd & RISCOS Ltd
2 rear USB ports for eg. extra storage, mouse, printer etc.
Connecting HDMI & USB cables and adaptor. Mains charger.
Optional external nano WiFi module
Limitations
When powered from the Lapdock, closing the lid turns power off and back on.
Wifi unit is ideal for wireless unit at home but does not support "roaming" with RISC OS. A compatible browser is needed to set it up (Javascript etc.).
On USA/Hebrew keyboard *keyboard USA gives the correct layout, though (,),{,},[,] are standard layout not as on the key legends
Price:
LaPi £289*
LaPanda £609*
| Upgrades | LaPi | LaPanda |
| --- | --- | --- |
| UK Layout Keyboard | £40 | £40 |
| Nano Wireless Router | £38 | £38 |
| Aemulor (Pre-Orders taken for LaPi) | £18 | Included |
| Upgrade 8GB Pen to 16GB nano Pen | £14 | £14 |
| Upgrade 8GB Pen to 32GB nano Pen | £29 | £29 |
| Upgrade 8GB Pen to 64GB nano Pen | £39 | £39 |
| Upgrade 8GB Pen for 16GB SSD | £39 | £39 |
| SD card upgrades | TBC | TBC |
Please contact us to discuss your requirements.
---
If you have a sales enquiry please email our
sales department
78 Brighton Road, Worthing, West Sussex, BN11 2EN, UK. 01903 523222
(full contact details)
If you have any comments or problems please email
info@cjemicros.co.uk
CJE Micro's is not responsible for the contents of external internet sites.
Page last updated Monday, 21-Jan-2013 15:08:02 GMT