SmallyMouse2
A USB Mouse Interface for RISC OS and 8bit Acorn/BBC Computers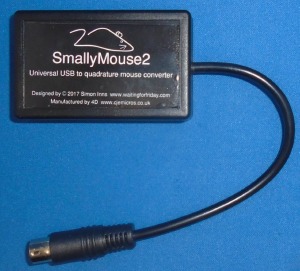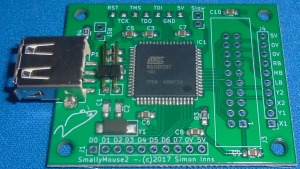 SmallyMouse2 is a USB to quadrature mouse adapter designed by Simon Inns. Quadrature mice were used on many 8-bit and 16-bit retro computers and on most Acorn RISC OS computers. It allows the use of modern USB mice on machines such as the Acorn BBC Micro, Acorn Master, Acorn Archimedes, Acorn RiscPC, Commodore Amiga, Atari ST and many more. Unlike most existing mouse adapters, SmallyMouse2 implements a fully USB compatible interface (most other adaptors are PS/2 based) this allows the use of most modern mice including those that use wireless communications.
Versions of the SmallyMouse2 board with cables suitable for either BBC (User port) or Acorn (9pin miniDIN), or bare for you to add a suitable cable and case for your system, are now available.
SmallyMouse2 for Acorn costs £49.00§ and is available to order here.
SmallyMouse2 for BBC costs £49.00§ and is available to order here.
SmallyMouse2 bare with no cable or case costs £38.00§ and is available to order here.
Also available bundled with mice.
Prices include UK delivery. European delivery £2.50 & Rest of the World £3.50.
§- Sold by 4D, which is not VAT registered.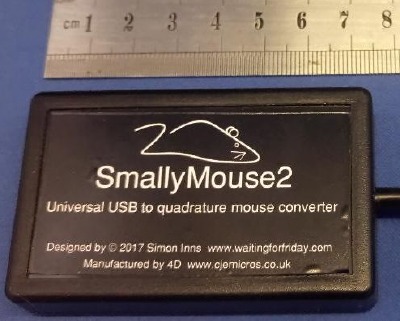 SmallyMouse2 was designed by Simon Inns © 2017 and is open source.
Copies of the source code and designs are available from Simon's website or from ourselves here (2.1MB)
---
If you have a sales enquiry please email our
sales department
Unit 16, Arunside Ind. Est., Fort Road, Littlehampton, BN17 7QU, UK. 01903 523222
(full contact details)
If you have any comments or problems please email
sales@cjemicros.co.uk
CJE Micro's is not responsible for the contents of external internet sites.
Page last updated Saturday, 12-Aug-2017 15:39:09 BST