Replacement Clock module for: RiscPC & A5000 etc.
CJEMicro's/4D are pleased to announce a replacement clock module for the RiscPC, A7000+, A7000, A5000, A4000, A3020, A3010 and A3000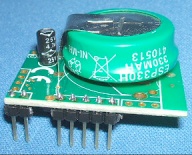 Failing Real Time Clocks (RTCs) and CMOS memory is a big problem for many earlier Acorn computers. Leaking batteries can cause extensive damage, but when the damage is limited to affecting the clock1 then our module can provide the solution.
Many people, like ourselves, have put their RiscPCs etc. into storage, removing the battery first to avoid any leaks, unfortunately it has been found that if no battery is connected for several months the clock may fail to start again when a new battery is fitted (there is a software fix for a 'stalled' clock but this only works in a very few cases for clocks failed this way).
The Module replicates completely the on board PCF8583 RTC system so no additional software is required as the operating system will automatically recognise the clock and CMOS RAM
Podule version for A5000, A7000*, A7000+* & RiscPC (also A3000 if external podule connector used): £30

Add to basket

MiniPodule Version for: A3000, A3010, A3020 & A4000: £28

Add to basket

Whilst fitting the Clock Podule/miniPodule is very simple (no soldering required) you may have to disable the old clock. This can be easily done by cutting the appropriate legs on the existing clock chip. Despite the chip being surface mounted this is not as difficult as it sounds, provided a suitably fine pair of side cutters are used (we can supply a suitable pair if necessary) and we plan to show how easy it is to do at the next few RISC OS shows by letting customers do it on our stand.
A prototype of this design has successfully worked for over three years!
If all the podule slots are in use on your RiscPC or A5000 we can supply a two or four slot RiscPC backplane or an A5000 backplane with a module attached.
Two slot backplane + Clock module £TBC
Four slot backplane + Clock module £TBC
A5000 backplane + Clock module £TBC

Option for a remotely held battery holder with a user replaceable battery (i.e. no soldering) £3 extra
The remote battery plugs onto either two pins of the three-pin header with the coloured wire (battery +ve) on the middle pin.
Purchase of side cutters (Use on chip then battery if required) £5.00
Full instructions with photos are provided and can be seen before purchase see links below:
Availability: Available now from stock!
Fitting Instruction PDFs:
RiscPC (1.5M)
A5000 (842K)
A4000 (1.0M)
A3020 & A3010 (1.1M)
A3000 (1.2M)

* The A7000 & A7000+ have significant limitations regarding fitting upgrades, and users should contact us for advice.

[1] To test to see if the computer is working apart from the clock. Do a power on delete (there may be up to a two minute pause whilst the system does a POST (Power On Self Test). If the computer then gets to a desktop2 and you can access your drives2 and run programs that suggests/implies that the system is working other than the clock

[2] To get a display and/or access your drives, other setting may need to be made after a Power On Delete
---
If you have a sales enquiry please email our

sales department

Unit 16, Arunside Ind. Est., Fort Road, Littlehampton, BN17 7QU, UK. 01903 523222

(full contact details)

If you have any comments or problems please email

sales@cjemicros.co.uk

CJE Micro's is not responsible for the contents of external internet sites.

Page last updated Thursday, 09-Jul-2020 11:11:47 BST